Will Remote Work Make It Even Harder for Women to Get Promoted?
Some of us will be heading back into the office soon, while some will continue working from home indefinitely, or, as boldly proposed by Twitter and Square, forever. But does that mean our careers will stagnate? How will we learn to lead or prove ourselves in this new virtual frontier?
This question is especially complex for women. Not only have we taken on additional domestic labor at home – often juggling childcare as well – but also sadly because the odds are not in our favor when it comes to getting promoted in the first place. It is actually more likely that we may burn out during this period than move up.
It's a critical situation where women need help from their spouses or family members, support from their leaders, and flexibility in their work schedules. Otherwise, the pipeline for female executive talent is in danger of shelved or sacrificed careers.
Is Getting Promoted Possible Now?
We have to first ask ourselves: Is it realistic to consider asking for or working toward a promotion right now? Aren't we lucky to even have a job? Timing really is everything. During the current situation, the likelihood of a promotion seems to be mixed, but not impossible.
Don't overlook the fact that successfully leading teams and projects during this volatile time is something to be recognized and not ignored. If you've driven notable efficiencies or miraculously turned profits, these are achievements that should be rewarded. Now is not the time to hide behind your keyboard and hope someone notices your hard work. You should speak up (or as I like to say, "take the mic") and let your leaders know you're ready.
However, it is important to be sensitive to your workplace environment. If people are being let go or are furloughed, it's probably not a good time to propose a promotion. You may also need to evaluate the longer-term outlook for the company you're with and determine if it's got the stamina to come out of COVID-19 punching. Essential industries like pharma, grocery, technology and healthcare may put you in a more favorable position. Disrupted industries like travel and hospitality are suffering and it may be better to consider acquiring more specialized skills or making a career change (this is something I can advise on).
The Likelihood of Women Being Promoted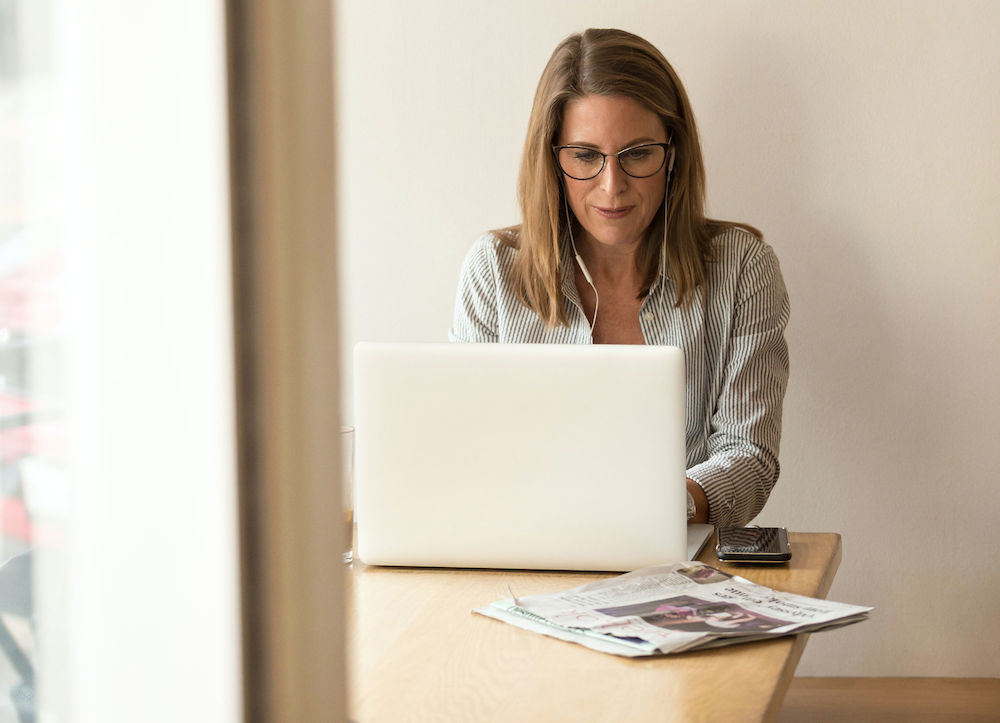 Women are reporting to new C-Suite roles in major companies right now: Carole Tome joined UPS as CEO last month and Sonia Syngal became Gap's CEO in March, while Melissa Waters became CMO of Instagram. However, since the onset of the year, and the COVID pandemic, no women have become CFO or COO of a Fortune 500 company. Working remotely may or may not work in your favor if you aspire to make it to the C-Suite.
According to some reports, like this one from Ultimate Software (PDF), women who work remotely are actually more likely to be promoted (by 22%) than those who work in the office. This may be because they report more room for growth and less stress (this survey was conducted prior to COVID-19).
Yet there is conflicting evidence to the contrary as well, such as this article from Wired where Adam Bennett, director of Robert Half Technology said: "I have a hard time believing companies are going to hire senior-level executives remotely unless it's deeply baked into their culture."
Promote Yourself, Regardless
As I've said before, while we have no control over our companies, leaders or the current situation, we can aim for a desired direction and can even use remote work to advance our careers. This is the time to make sure you are a stand-out, even if it's through Zoom.
Here are some simple tips on how to make a difference and create impact within your organization, and ultimately for your reputation:
Focus. More than ever focus on just a few things that really will make a difference and create impact. Dedicate your energies to projects that will really revolutionize your company's offerings or operations.
Engage your allies with these impactful initiatives. They will support you, give you valuable feedback, and hold you accountable for achieving what you said you would.
Grab Zoom time: Deliberately and consciously showcase your work. Make sure you're a part of meaningful conversations with leaders and influencers. If you're not invited, become a host and spotlight your work through an update or a how-to session.
Work the phone: Nurture your connections with good old-fashioned calls. People are "Zoomed out," and it's a novel way to reach out. Your network wants to hear from you and will be appreciative of a more casual channel.
While right now may sometimes feel like the end of the world, it's actually the beginning of a new one that we can help create. This is the time to rethink our old ways and usher in an entirely new type of workplace – one that is more equitable, fair, flexible, and cooperative. That said, we must go through some chaos, and loss, before we finally settle into our new world. The more we are vocal about our needs and performance, the more likely we are to influence that change in a way that positively affects us and others.
Need Help Deciding if it's the Right Time for You?
Now is a great time to work with a career coach. A 30-minute video consultation can help you get clear about your goals and start to put actionable steps toward making things happen. If you're trying to figure out how to best position yourself for that promotion or are considering a career change, contact me.
Bogliolo Coaching & Consulting offers individual sessions and team workshops. Through coaching, women especially can learn to use their own voice, then hold their hand up and wave, and finally stand up and #takethemic.
Want to know more about the world of leadership, coaching and career development?
Need help finding your own voice and developing your leadership qualities?
Contact me to set up a consultation.
---
Previous article:
← Women are Successfully Leading Countries — So Why Aren't They Leading More Companies?
Next article:
Summer Doldrums? Take this Pause to Cultivate Serendipity →